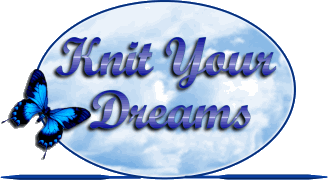 May 28, 2020
This weekend is
Knit Your Dream's 17th anniversary
. I have met so many amazing knitters. I hope the next year is better for all of us. We will wait and celebrate the anniversary in style when we don't have to worry so much about social distancing.
We Are Open Again! - The shop is re-opening this Friday, May 29th. I have read the guidelines for re-opening and with these new rules we can make this happen. Please read them carefully before calling for an appointment.
If you are sneezing or coughing for any reason, I ask that you please stay home.
Customers must make an appointment and are limited to two people per party. If you travel in a larger group, you will have to take turns coming in the shop. If you drop in, you will probably be given a time to return, because those with appointments will be given priority.
You must wait in your car until I let you know that it is okay to come in. Surfaces must be wiped down between customers.
Everyone coming in the shop over age 2, will be required to wear a face mask. If you do not want to wear a face mask, curbside delivery will still be available.
You must use hand sanitizer before you can touch any yarn.
No touching yarn to your face or neck and no trying on shop models.
No public restroom during this phase.
No sitting / knitting in the shop. (Weather permitting we may knit outdoors while social distancing.)
No classes.
No hands on help, fixing problems.
No one will be allowed behind the counter. You must ask to see needles or notions.
For those not ready go out in public, I will continue curbside delivery and mailing packages.I want to clarify that at this time, curbside delivery is just delivery not shopping.The objective of all these new rules is social distancing. If I mail yarn or needles, I am charging $7.00 shipping for orders under $100.00. Orders over $100.00 I will ship for free.
CASAPINKA'S NEW EVENT – The Breathe and Hope Shawl (pictured above) was so successful that Casapinka has decided to hold another event. This time she has designed a shawl called Hug Shot (pictured below). This pattern is free with the purchase of two skeins of yarn. The pattern will be available with a coupon I will supply, the weekend of June 5th- 7th. This time I have been given a test copy of the pattern and should have it finished by the weekend. The kits and sample shawl will be on display in the shop. I will also be posting photos of the kits on Instagram and Facebook just like I did last time, so you don't have to come into the shop to participate. It is a simple knit and beautiful! I have included Casapinka's photos here, but will post my shawls (in better colors) on Instagram and Facebook.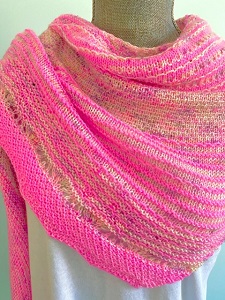 We have several knit-a-longs going on. The Breathe and Hope Shawl, the Hug Shot Shawl will start this weekend. Berroco is going to have a "Tee" Party Knit-a-long during June and July. Featured patterns will be for Tee style tops. I think I'm going to do the top down Derecho Sweater pictured below, but with short sleeves. For more information about the knit-a-longs contact the shop.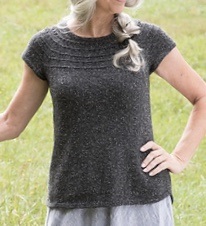 ZOOM KNITTING – We will be continuing our social knitting sessions on Zoom. One session is Tuesday evenings from 5:30 to 7:00 PM. Another session is Friday afternoons from 1:00 to 3:00 PM. If you would like to join us, contact me for the room number and password.

I have seen the fall preview of beautiful new yarns from Berroco and later in June, I will have an opportunity to start ordering them. Please watch on Istagram and Facebook for further announcements and photos of new yarns as they arrive. Hopefully this is all TEMPORARY, and we will be knitting together soon.

Be safe and knit on!
Becca
Clearance:
All in stock Kraemer yarns are 50% off.

All Susan Bates and Clover knitting needles are 50% off.

All books

50% off except Cabin Fever and Cottage Creations.

All individual patterns in the binders are $1.00 each.
Send e-mail to knit@knityourdreams.com with questions or comments about this web site.
Copyright © 2003-2020 Knit Your Dreams.