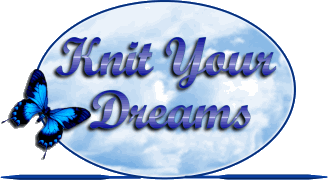 It is wonderful that the weather has changed and we can knit outside together again. We are still not knitting in the main shop, but it is very nice out under the carport! We have started having Tuesday night knitting sessions at a local restaurant. We are going to a restaurant that has both outdoor and indoor seating, because I know that some still feel uncomfortable in a restaurant environment.
The restriction for wearing masks inside has been lifted for those who have been vaccinated. I'm leaving it up to each person and their conscience to decide about wearing one. I do live upstairs and hope that everyone will respect that, and stay home if they are exhibiting any symptons.
18 Years!!!
This weekend we will be celebrating the shop's 18th anniversary! We will be knitting outside of the weather permits. Come in and see new shop models and beautiful new yarns that have arrived.
Classes and KALs have resumed outdoors. Contact the shop for available times. We will be starting a "Summer of Socks" KAL the week of June 1st. With patterns from the book "Silk Road Socks". Samples of some to the socks and my copy of the book are on display in the shop.
The Saturday morning knitters have designed a shawl called "Dreaming with Friends". It is a beautiful rectangular sampler shawl. The pattern will be available for sale in printed form and thru Ravelry sales starting this weekend.
I have marked down some additional yarns on sale. This a perfect time to take advantage of the sale and get a head start on holiday knitting projects. These additional yarns, are yarns that I can't reorder because the company has gone out of business or they have been discontinued.
If you are on Facebook or Instagram, please look up Knit Your Dreams Yarn Shop and check out the photos Iíve been posting of projects Iím working on and have completed. If you click Follow, both Instagram and Facebook will automatically notify you when I post new photos.
Clearance:
A lot of yarns have been discounted to make room for more new inventory!

All Susan Bates and Clover knitting needles are 50% off.

All books

50% off except Cabin Fever and Cottage Creations.

All individual patterns in the binders are $1.00 each.
Send e-mail to knit@knityourdreams.com with questions or comments about this web site.
Copyright © 2003-2021 Knit Your Dreams.