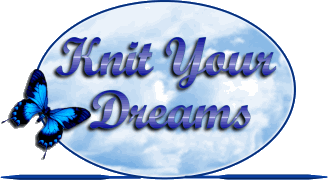 It may say spring on the calendar, but Iím still wearing my sweaters and socks. It has been perfect knitting weather. Time for another newsletter and I have so many things to share with you. A new evening group has begun and several other special events are coming up. Follow us as Knit Your Dreams Yarn Shop on Facebook and Instagram to keep up with other events that may pop up over the summer.

Special Events:

Saturday, April 21st is the first annual international LYS (Local Yarn Shop) Day.

Local yarn shops exist so that you can touch yarn, see colors, learn new techniques, and enjoy the company of other people who share your love of knit and crochet.

Knit Your Dreams will have new shop models on display and sales on select yarns and needles. I have been given permission to distribute free copies of Casapinkaís Local Yarn Shop Shawl pattern to customers that are Ravelry members and purchase yarn that day. I will also be releasing a new sock pattern for sale. It should be a fun morning!

A new evening Knit / Crochet group has been started. We meet every other Tuesday night from 5:30 to 7:30 at the Pizza Hut on Locust here in Quincy. We have a great time eating pizza and working on our projects. Follow us on Facebook as Knit Your Dreams or Instagram as knityourdreamsyarnshop to find out when we meet next.

Saturday, June 2nd we will be celebrating Knit Your Dreams 15th anniversary. There will be special mark downs, new yarns arriving, and possibly goodies!

New:
Shipments from Jojoland containing new colors of Ballad and Splatterdash.

From Trendsetter new shades of MerinoVI.

From Universal a new self striping fingering weight 100% acrylic yarn called Little Bird. It can be used for socks and baby things. I have a model sweater knitted out of it on display.

Wooden yarn bowls.
Clearance:
All Susan Bates and Clover knitting needles are 50% off until they are gone.
Send e-mail to knit@knityourdreams.com with questions or comments about this web site.
Copyright © 2003-2018 Knit Your Dreams.